Here's what's going on at Tri-Lakes Services, Inc.
---
Crew Member Spotlight
Jonathan Helms Gillham Shop Crew
&
Larry Oglesby's Crew
AND
Kelly Harp's ST6 Crew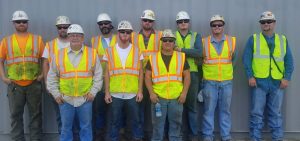 Way to go guys!
---
⇓
YEARS OF SERVICE SPOTLIGHT
Grayson Winer 9/18/2005
Donald Willie 9/20/2006
Brad Dollar 9/17/2007
William Hubbard 9/2/2008
Michael Cherry 9/21/2009
Wendell Gantt 9/21/2009
Roger Dennison 9/8/2011
Brandon Little 9/23/2011
Loresa Torres 9/16/2013
Ronald Bingham 9/23/2013
Christopher Parker 9/17/2014
Jessie Harden 9/29/2016
Cody Allen 9/25/2017
Jerremy Bess 9/25/2017
Shimeon Manning 9/25/2017
---
CONGRATULATIONS to our Courage to Care Winners this month!
Mike Adkins
Michael Beech
Colin Browne
Jerry Claborn
Justin Cupit
Tommy Fennell
Smith Gallagher
Justin Hoover
William Igleheart
David Jones
Mike Mussett
Randy O'Donnell
Marcus Padilla
Brent Parsons
Jesus Quintero
Aubry Reel
Keith Roberts
Andres Rodriguez
Kim Rymer
Kesha Smith
Robert Strickland
Jose Vargas
Donald Willie
---
⇓  ⇓  ⇓  
Employee Benefits
Tri-Lakes Services, Inc. offers our full time employees the option to buy benefits, after 60 days of employment, for medical, dental, and vision insurance. We also offer policies for accident, critical illness, hospital indemnity, life insurance, employer paid life insurance, short term disability, long term disability, legal plans, and identity theft protection as well as offering two Health Savings Account plans, known as HSA.
If you need to print out a temporary health insurance card, visit www.myuhc.com to register. You may also visit www.metlife.com to find doctors nearby for your vision and/or dental insurance needs.
TLS Group #: 0905242—United Health Care
TLS Group #: 5357322—MetLife
Did you know that The Gallagher Marketplace gives you two free and confidential benefits regardless of what insurance programs you did or did not purchase? The ComPsych Guidance Resource program provides FREE, in-person counseling, unlimited telephone consultations with attorneys and financial professionals, as well as assistance with finding child care, elder care, moving services, and so much more! The ComPsych Health Champion program empowers you to make better health care choices. Experienced health care advocates provide unlimited consultation to explain bills and medical diagnoses. They also help you find payment plans or negotiate fees. You can call 24/7 for support.
Visit: www.guidanceresources.com & use WebID: Gallagher
If you have any questions, please call Shana at our Gillham office: (870) 386-2451