Happy New Year!
From all of us at Tri-Lakes Services, Inc.
---
Become a Creature of Healthy Habits
Healthy behavior can be habit-forming, just like anything else. Determine how you want to improve, then find small ways to consistently work toward that goal. 
Remember:
You don't need to spend hours in the gym to live an active lifestyle. Get up and move every hour or two at work, and squeeze in longer workouts when you can.

Small changes add up to big improvements in your diet. The key is to read food labels to avoid hidden sugars and eat whole, fresh foods whenever you can!

Set a sleep schedule to get better rest. Train your body to get tired and wake up at the same time of day and you'll find it easier to fall asleep.

Find a calm moment or two in your day. Everyone feels and deals with stress differently. Plan small breaks in your day to care for your mental well-being.

Establish (and stick to) a budget to limit impulse purchases and reduce financial worries.
Be the YOU that YOU want to be!
2019 is going to be your year! No matter what your goals are (balance your budget, exercise more often, become a shepherd), remember three key ways to stay motivated:
Set personal goals that you want to make. When your invested in healthy change, you'll find more excuses to keep going and fewer excuses to quit.
Take real action, which means you'll need to adapt your behavior.
Track your progress and achieve smaller goals on the way to your big one.
---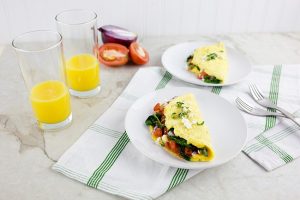 Skinny Greek Omelet
INGREDIENTS
• 2 eggs and 1 egg white, beaten
• ½ teaspoon extra virgin olive oil
• 3 tablespoons diced red onion
• ½ cup Roma tomato, diced
• 1 cup baby spinach
• 1 tablespoon reduced-fat Feta cheese crumbles
• 1 tablespoon basil, chopped
• Salt (to taste)
• Black pepper (to taste)
INSTRUCTIONS
1. Heat small skillet (6-inch) over medium-low heat.
2. Add the oil, onion, tomato, and spinach and cook for about 2 minutes, until onions soften and the spinach has wilted. Remove the cooked vegetables from the skillet and reserve on a plate.
3. Spray the skillet with nonstick cooking spray and pour the beaten eggs, seasoned with salt and black pepper. Allow the egg to set for about 30 seconds.
4. Using a rubber spatula, loosen the edges of the egg on all sides, then tilt the skillet upwards slightly. Pull the eggs upwards towards the center of the skillet, allowing the uncooked egg to run down to the exposed skillet walls.
5. Repeat this action until most of the uncooked egg becomes cooked (approx. 2-3 minutes).
6. While the egg is still slightly uncooked, add the cooked vegetables, Feta cheese, and basil to one side and fold the other side over to cover the filling.
7. Cook for an additional 1 minute to melt the cheese and finish cooking the inside.
8. Slide the omelet out onto a plate and serve immediately.
TOTAL TIME (Cook & Prep): 20 minutes
SERVINGS: 1
NUTRITION INFO: (per serving)
204 calories
12g fat
354mg cholesterol
292mg sodium
6g carbohydrates
2g fiber
19g protein