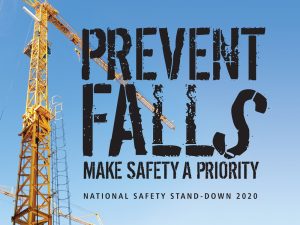 BEHIND THE NATIONAL SAFETY STAND DOWN TO PREVENT FALLS
The Occupational Safety and Health Administration (OSHA) has released the new dates for the 7th annual National Safety Stand Down to Prevent Falls in Construction. From September 14-18, 2020, employers are encouraged to set aside time for worker training and toolbox talks surrounding one of OSHA's "Fatal Four," fall hazards. These valuable conversations can help save construction workers' lives through preventative action and situational awareness. OSHA's "Fatal Four" leading causes of deaths in construction consist of electrocution, struck-by, caught-in/-between, and fall hazards. Falls account for the majority of construction deaths out of the four leading causes. According to OSHA, in 2018, 320 out of 1,008 construction deaths were caused by falls to a lower level.
Despite the focus on the construction industry, anyone can participate in the National Safety Stand-Down. OSHA encourages employers who are outside of the construction industry to ask themselves the following questions when preparing a safety stand-down for their workers:
• What hazards do my employees face in the workplace?
• Are my employees trained on evacuation and emergency procedures?
• What company policies can I highlight in a stand down that would promote a safer work environment?
• Do my employees know when and how to report discrimination or harassment?
• Does my company have clear, established safety goals? Are my employees aware of these goals?
All employers are encouraged to complete a certificate of participation for their employees following their safety standdown as a demonstration of their safety leadership. For more
information on the National Safety Stand-Down, view OSHA's website here.
www.osha.gov/StopFallsStandDown/index.html
Safety Stand-Down 101
If you have never hosted a safety stand-down before, OSHA offers the following tips:
• Establish a coordinator to run point on the preparation of your safety stand-down.
• Ask non-employees that work with your company to participate (e.g. engineers, architects, subcontractors, etc.).
• Review your emergency plans, procedures, and safety programs in advance for possible revision.
• Create your stand-down presentation and/or resources.
• Schedule and market the stand-down to your employees. Give them incentives to participate.
---
---
---
Space Heater Safety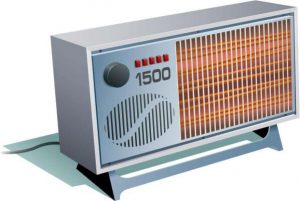 Have you unpacked your heater yet?
Be sure to turn off your space heaters before you leave home or work each day. Many fires are caused from space heaters being left unattended.
Here are some heater safety habits to keep in mind:
1. Keep all sides of the heater at least 3 feet from beds, clothes, curtains, papers, furniture, etc.
2. Never run the heaters cord under rugs or carpeting & never power the heater with extension cords.
3. Make sure the heater isn't near water & be sure not to touch it if you are wet.
4. Place the heater on a stable, level surface, located where it will not be knocked over.
5. Never leave the heater operating while unattended or while sleeping.
6. If the cord or plug is or gets hot, disconnect the heater immediately & contact a certified electrician.
7. You can check to see if your heater has been recalled by going to www.SaferProducts.gov