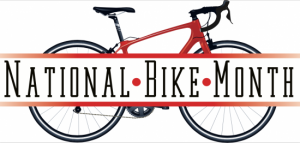 Let's ride our way into May!!
MAY is National Bike and Skin Cancer Awareness Month!
---
Sitting Down: It's an Epidemic!!
No matter what your intentions are, it can be difficult to avoid sitting. We sit during morning and evening commutes, while attending meetings and sending emails, and at home to relax or socialize. But even if your job keeps you tied to a desk most of the day, it's important to keep moving—a sedentary lifestyle has been linked to heart disease, diabetes, obesity, poor circulation, loss of muscle and hypertension and other health risks. Even worse, people who sit the majority of each day are at increased risk even if they exercise in the evening!
---
Family Time!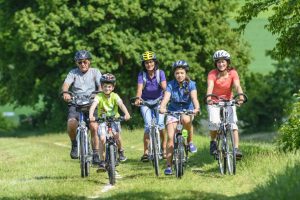 Make it a family outing by taking them bike riding.This is a great way to get your exercise in and to keep moving. Parents, take the time to take the necessary precautions before going on your bike excursion. Wear your helmets, knee pads, and elbow pads, this is specially for children to protect them from falls. And don't forget your sunscreen. Wearing a minimum of SPF 15 will help in the fight for skin cancer this will help protect your from the sun's harmful rays. By taking these precautions before your outing you will be able to enjoy more fun time with the family and less time dealing anyone getting hurt.  Creating memories, risk free, is what this family bike ride is all about.
---
May is also skin care awareness month!
With over 5 million cases diagnosed in the United States each year, skin cancer is the most common cancer in the United States. Fortunately, skin cancer is also one of the most preventable forms of cancer. About 90 percent of non-melanoma skin cancers and 85 percent of melanoma cases are associated with exposure to ultraviolet radiation from the sun. By raising awareness of the dangers of unprotected exposure and encouraging sun-safe habits, we can change behaviors and save lives.
---
Here are just a few ideas to help prevent sun damage:
Encourage families to adopt good habits together, like wearing sunscreen with SPF 15 or higher and limiting their time in the sun.

Motivate teachers and administrators to educate kids about the harm of UV radiation and why it's important to protect yourself.

Identify youth leaders in your community who can talk to their peers about how to prevent skin cancer.

Partner with a local hospital, state fair, or similar organization to host a skin cancer screening event.
---
5 Minute Buffalo Chicken Wraps
Ingredients
2 

cup

 

cooked chicken

 

shredded or chopped (rotisserie, shredded, or grilled)
1/2

 

cup

 

buffalo sauce

 

or 1/3 cup hot sauce + 2 tablespoons melted butter

1

 

cup

 

shredded lettuce

1/4

 

cup

 

ranch or blue cheese dressing

4

 

medium flour tortillas

Optional fillings: tomato

 

onion, shredded cheese
Instructions
In a large bowl, combine the cooked chicken and buffalo sauce until the chicken is fully coated with the sauce.

Lay out the flour tortillas and divide the chicken evenly among the tortillas. Top the chicken with lettuce, and ranch dressing. Fold in the sides of the tortilla and roll the wrap burrito-style. Enjoy warm or cold! Perfect for those on the go outings!
Prep Time: 5 Minutes
Cook Time: 5 Minutes
Serving Size: 4