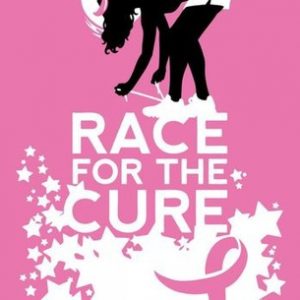 June is National Race for the Cure month!!
RACE FOR THE CURE
WHAT IS RACE FOR THE CURE? THIS IS A MAJOR EVENT THAT BRINGS AWARENESS IN EDUCATION AND FUND RAISING FOR BREAST CANCER.  IT IS ONE OF THE LARGEST AND MOST SUCCESSFUL FUNDRAISERS FOR BREAST CANCER. RACE FOR THE CURE IS PART OF THE SUSAN G. KOMEN FOUNDATION. THE RACE FOR THE CURE CONSISTS OF A SERIES OF 5K RUNS AND FITNESS WALKS. THIS EVENT IS NOT ONLY TO RAISE FUNDS AND AWARENESS ABOUT BREAST CANCER BUT TO CELEBRATE THE FIGHTERS WHO HAVE LOST THE FIGHT OR TO THOSE THAT HAVE WON THE FIGHT.  THE SURVIVORS!!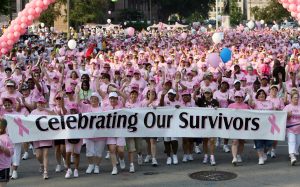 ---
HOW TO PREPARE FOR RACE FOR THE CURE
Prepare yourself for this exciting walk by taking a walk daily for fifteen minutes at an easy pace. Staying consistent will help build up strength. Don't forget to take a rest day on the third and sixth day of the week this way your body has time to recuperate.
Proper foot ware is essential! Walking shoes with flexible soles and low heels are the best. You should be able to twist and bend your shoes, otherwise your feet and shins are going to struggle with each step.  Make sure the fit is right: snug but with enough room so your feet can expand while walking.
Be sure to wear sunblock, hats, and sunglasses.  A hat prevents sun exposure as well as keeping you from losing heat. Sunglasses for outdoor walking prevents the sun's rays from hurting the eyes and sunscreen helps to protect the skin!
Pack lightly! Carry keys and articles in pockets or a hip pack.
STAY HYDRATED!! Drink plenty of water or Gatorade. Hydrating is extremely important when doing any physical activity.
AND MOST IMPORTANTLY— DON'T FORGET YOUR PINK!!
---
 SNACK-ON THE GO !!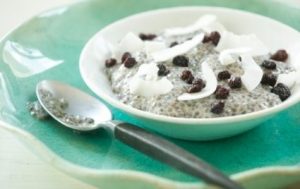 Chia Pudding
Ingredients: 
2/3 cup chia seeds

2 cups unsweetened soy milk, almond milk, or rice milk

1/2 teaspoon pure vanilla extract

2 tablespoons dried currants or chopped dried figs or dates

2 tablespoons unsweetened coconut flakes

Method: 

Put chia seeds, almond milk, and vanilla in a 1-quart glass jar with a lid. Tighten the lid and shake well to thoroughly combine. Or, stir together seeds, almond milk and vanilla in a bowl. Refrigerate overnight. When ready to serve, stir well. Spoon into bowls and top with fruit and coconut.

Nutritional Info: 

Per Serving: 280 calories (70 from fat), 7g total fat, 1.5g saturated fat, 200mg sodium, 49g carbohydrates, (7 g dietary fiber, 7g sugar), 3g protein.

THIS IS A GREAT SNACK BEFORE THE RACE.

---

FUN fact about Chia Seeds:

 Chia seeds absorb about 10–12 times their weight in water (watch the gel form around them when put in water). Chia seeds triple in size. This unique characteristic means chia seeds help your body prolong hydration and retain electrolytes and promotes endurance for the race to come. 
---
HAPPY RACING!!