Hello April!
---
It's Spring Cleaning Time!!
---
How to Clean Your House Fast: 11 Efficient House Cleaning Tips.
Everyone hates to clean but everyone loves a clean house. Is there a better way to clean your house fast? Hopefully, these tips will make this dreaded process a little easier to bear. Happy cleaning ya'll! 
1. Clean the whole house, not one room at time– Cleaning is much more efficient if you pick one task (dusting, vacuuming, mopping) and do the same task in every room in the house, rather than cleaning the kitchen, the bathrooms and then the bedrooms. Doing it that way prevents you from feeling like you're in an endless cleaning cycle, starting the same task over and over again.
2. Gather all your cleaning tools in a caddy– Whether it's a caddy, bucket or tote, having everything you need to clean in one portable place makes it much easier to get the job done. You won't waste time looking for tools while you clean, and don't have to worry about gathering them before your next go around.
3. Clear the clutter– Before you even start cleaning, go room to room and pick up the clutter. As you pick up each item – magazines, well-read paperbacks, old sneakers – consider whether you should put it away, toss it or donate it.
4. Dust and vacuum– Before you start dusting, make sure ceiling fans are turned off. Concentrate your dusting on the tops of furniture and the undersides of shelves, on handrails, picture frames, knickknacks and TV screens. For hard-to-reach areas, like blinds and upper shelves, tie a microfiber cloth to the end of a mop or broom. Change the sheets in the bedrooms before you vacuum.
5. Wipe mirrors and glass– Use one damp microfiber cloth, followed by one dry cloth in wiping clean all the mirrors and glass surfaces.
6. Disinfect countertops and surface areas– Go through your house and wipe down the hard surfaces – from countertops, appliances and cabinets to doorknobs, light switches, TV remotes and telephones. You should disinfect some of those surfaces, particularly the ones that might deliver germs to people's fingers and faces. Make a nontoxic disinfection solution by mixing one-fourth to a half cup of white or apple cider vinegar with a cup of water.
7. Focus on tubs, sinks and toilets– Spray cleaner on the kitchen sink then on bathroom sinks, tubs and toilets. Let it sit for a few minutes so the cleaner has time to dissolve dirt and stains. Then return to the kitchen and start scrubbing. Don't forget to wipe down the inside of the microwave. Clean toilets last.
8. Sweep, then mop– Sweep the kitchen and bathroom floors. Start mopping from the farthest corner of the room and move backwards towards the doorway (that is, don't mop yourself into a corner). Rinse the mop every time you complete a 4-by-4-foot area.
9. Keep moving when you vacuum– Don't worry about getting every nook and cranny when you vacuum. Just keep moving through the house, running the vacuum in every carpeted room in one pass through.
Some tasks don't need to be done each week. These include waxing the furniture, cleaning the windows, and washing area rugs and bath mats. Inspect these accessories and use your own judgment.
10. Don't forget to routinely wash your cleaning tools– An often overlooked part of cleaning the house is maintaining your cleaning tools. Using a dirty mop or a vacuum with a full bag is much less effective, and you'll end up spending more time trying to clean.
11. Make cleaning a group activity– Making cleaning a team effort is one of the best ways to clean a house fast. Schedule a time in advance with your family, and assign tasks to each person. Working together can add some fun to cleaning, and your house will be sparkling in no time.
---
DIY Essential Oils Disinfecting Spray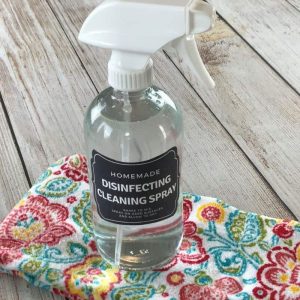 Supplies:
3/4 cup distilled water

1/4 cup white vinegar

8 ounces spray bottle

funnel (optional)

7 drops lavender essential oil

7 drops tea tree essential oil
Step 1– Pour the 1/4 cup of white vinegar into your bottle. A funnel makes this part easy with less chance of a spill.
Step 2– Add the essential oils. Don't overdo it! Essential oils are strong and a little goes a long way. Pour in the 3/4 cup of distilled water. Add the top and give it a shake to distribute the oils.
Step 3– Clean away! Gently shake the bottle before each use. Disinfect table tops, door handles, cell phones, etc. It's safe to use around kids and pets.  This is such a simple DIY cleaner, you'll never buy the chemical-laden stuff again.
---
Happy Cleaning!!
---
---
Steps to help prevent the spread of COVID-19 if you are sick
Follow the steps below:  If you are sick with COVID-19 or think you might have COVID-19, follow the steps below to care for yourself and to help protect other people in your home and community.
Stay home except to get medical care
Stay home: Most people with COVID-19 have mild illness and are able to recover at home without medical care. Do not leave your home, except to get medical care. Do not visit public areas.
Stay in touch with your doctor. Call before you get medical care. Be sure to get care if you have trouble breathing, or have any other emergency warning signs, or if you think it is an emergency.
Avoid public transportation: Avoid using public transportation, ride-sharing, or taxis.
Separate yourself from other people in your home, this is known as home isolation
Stay away from others: As much as possible, you stay away from others. You should stay in a specific "sick room" if possible, and away from other people in your home. Use a separate bathroom, if available.
Call ahead before visiting your doctor
Call ahead: Many medical visits for routine care are being postponed or done by phone or telemedicine.

If you have a medical appointment that cannot be postponed, call your doctor's office, and tell them you have or may have COVID-19. This will help the office protect themselves and other patients.
If you are sick wear a facemask in the following situations, if available.
If you are sick: You should wear a facemask, if available, when you are around other people (including before you enter a healthcare provider's office).
If you are caring for others: If the person who is sick is not able to wear a facemask (for example, because it causes trouble breathing), then as their caregiver, you should wear a facemask when in the same room with them. Visitors, other than caregivers, are not recommended.
Note: During a public health emergency, facemasks may be reserved for healthcare workers. You may need to improvise a facemask using a scarf or bandana.
Cover your coughs and sneezes
Cover: Cover your mouth and nose with a tissue when you cough or sneeze.
Dispose: Throw used tissues in a lined trash can.
Wash hands: Immediately wash your hands with soap and water for at least 20 seconds. If soap and water are not available, clean your hands with an alcohol-based hand sanitizer that contains at least 60% alcohol.
Wash hands: Wash your hands often with soap and water for at least 20 seconds. This is especially important after blowing your nose, coughing, or sneezing; going to the bathroom; and before eating or preparing food.
Hand sanitizer: If soap and water are not available, use an alcohol-based hand sanitizer with at least 60% alcohol, covering all surfaces of your hands and rubbing them together until they feel dry.
Soap and water: Soap and water are the best option, especially if hands are visibly dirty.
Avoid touching: Avoid touching your eyes, nose, and mouth with unwashed hands.
Avoid sharing personal household items
Do not share: Do not share dishes, drinking glasses, cups, eating utensils, towels, or bedding with other people in your home.
Wash thoroughly after use: After using these items, wash them thoroughly with soap and water or put in the dishwasher.
Clean all "high-touch" surfaces everyday
Clean high-touch surfaces in your isolation area ("sick room" and bathroom) every day; let a caregiver clean and disinfect high-touch surfaces in other areas of the home.
Clean and disinfect: Routinely clean high-touch surfaces in your "sick room" and bathroom. Let someone else clean and disinfect surfaces in common areas, but not your bedroom and bathroom.
If a caregiver or other person needs to clean and disinfect a sick person's bedroom or bathroom, they should do so on an as-needed basis. The caregiver/other person should wear a mask and wait as long as possible after the sick person has used the bathroom.
High-touch surfaces include phones, remote controls, counters, tabletops, doorknobs, bathroom fixtures, toilets, keyboards, tablets, and bedside tables.
Clean and disinfect areas that may have blood, stool, or body fluids on them.
Household cleaners and disinfectants: Clean the area or item with soap and water or another detergent if it is dirty. Then, use a household disinfectant.
Be sure to follow the instructions on the label to ensure safe and effective use of the product. Many products recommend keeping the surface wet for several minutes to ensure germs are killed. Many also recommend precautions such as wearing gloves and making sure you have good ventilation during use of the product.

Most EPA-registered household disinfectants should be effective. A full list of disinfectants can be found here

external icon

.
Common symptoms of COVID-19 include fever and cough. Trouble breathing is a more serious symptom that means you should get medical attention.

If you are having trouble breathing, seek medical attention, but call first.

Call your doctor or emergency room before going in and tell them your symptoms. They will tell you what to do.

Wear a facemask: If available, put on a facemask before you enter the building. If you can't put on a facemask, cover your coughs and sneezes. Try to stay at least 6 feet away from other people. This will help protect the people in the office or waiting room.
Follow care instructions from your healthcare provider and local health department: Your local health authorities may give instructions on checking your symptoms and reporting information.
When to Seek Medical Attention
If you develop emergency warning signs for COVID-19 get medical attention immediately. Emergency warning signs include*:
Trouble breathing

Persistent pain or pressure in the chest

New confusion or inability to arouse

Bluish lips or face
*This list is not all inclusive. Please consult your medical provider for any other symptoms that are severe or concerning.
How to discontinue home isolation
People with COVID-19 who have stayed home (home isolated) can stop home isolation under the following conditions:

If you will not have a test to determine if you are still contagious, you can leave home after these three things have happened:
You have had no fever for at least 72 hours (that is three full days of no fever without the use medicine that reduces fevers)




AND

other symptoms have improved (for example, when your cough or shortness of breath have improved)




AND

at least 7 days have passed since your symptoms first appeared

If you will be tested to determine if you are still contagious, you can leave home after these three things have happened:

You no longer have a fever (without the use medicine that reduces fevers)




AND

other symptoms have improved (for example, when your cough or shortness of breath have improved)




AND


you received two negative tests in a row, 24 hours apart. Your doctor will follow CDC guidelines.