STRESS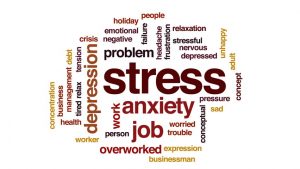 Do you ever feel like everything is closing in on you? Spend numerous nights with no sleep?  Your heart races and feels as though its about to come out of your chest?  Can't concentrate? Mind is foggy, feeling nauseous or sweaty?  All of these could be symptoms of  STRESS.  Stress can cause many health issues. Some of these may include, heart disease, high blood pressure, mental health problems and strokes.   
Unfortunately, there is no magic cure for STRESS, but there are steps that you can take to combat this issue and improve your health:
Make To-Do List – Organizing your workload will help you feel in control and things  will go more smoothly.
Find a Way to Recharge  – A walk outside or around the block, exercise, or just time to relax and do something that you enjoy.
Stay in Touch with Family/Friends – take time to do something fun with your family or friends.
Stay Positive – focus on positive things in your life and not the negative.
Let Things Go – probably the most difficult to do……when issues arise, find a solution and move on.
SUPERFOODS FOR STRESS RELIEF
https://www.health.com
Green Leafy Vegetables
Turkey Breast
Oatmeal
Yogurt
Salmon
Blueberries
Pistachios
Dark Chocolate
Milk
Seeds
Avocado
Cashews
STRESS RELIEF RECIPE
CEDAR PLANK SALMON
Ingredients
Soak cedar plank in salted water for 2 hours, then drain. Remove skin from salmon fillet. Remove any remaining bones. Rinse the salmon under cold running water and pat dry with paper towels. Generously season the salmon with salt and pepper on both sides. Lay the salmon (on what was skin-side down) on the cedar plank and carefully spread the mustard over the top and sides. Place the brown sugar in a bowl and crumble between your fingers, then sprinkle over the mustard.
Set grill for indirect grilling and heat to medium-high. Place the cedar plank in the center of the hot grate, away from the heat. Cover the grill and cook until cooked through, around 20 to 30 minutes. The internal temperature should read 135 degrees F. Transfer the salmon and plank to a platter and serve right off the plank.
Cook's Note: A direct method to grill the salmon may be used. Soak the cedar plank well. Spread the mustard and brown sugar on the salmon, but do not place the fish on the plank. Set up the grill for direct grilling on medium-high. When ready to cook, place the plank on the hot grate and leave it until there is a smell of smoke, about 3 to 4 minutes. Turn the plank over and place the fish on top. Cover the grill and cook until the fish is cooked through, reaching an internal temperature of 135 degrees F. Check the plank occasionally. If the edges start to catch fire, mist with water, or move the plank to a cooler part of the grill.
https://www.foodnetwork.com/recipes/cedar-plank-salmon-recipe-2013938