Tri-Lakes Services, Inc. is
invested in our employees' health.
We have compiled a list of Health and Wellness topics with
information to assist you with your health and wellness needs.
We all look forward to summer…….the swimming, the days at the lake,
the cookouts and the sweet taste of watermelon. But, there is
one thing that we don't enjoy and that is the HEAT! Please be cautious in your day to
day activities and make sure that you stay hydrated and don't get overheated. 
Remember to stop and take breaks, drink plenty of fluids(WATER), eat light meals and most important o
f all watch for signs that you may be getting to HOT.
WATER IS IMPORTANT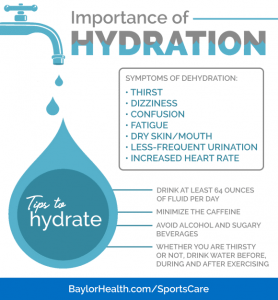 Stay Cool (Avoid Heat-Related Illnesses)
What is a heat-related illness? There are many different kinds, but in general, they share a
common cause: prolonged exposure to heat and a lack of proper hydration. When you overheat,
your body rushes blood to your skin in an attempt to cool down. This causes less blood to reach
your brain, organs and muscles, which in turn causes the illness.
Who is at Risk?
Anyone can succumb to a heat-related illness because all it takes is time, temperature and carelessness. But certain groups are at higher risk: those who work in hot/humid environments, the very young, the elderly, and obese or chronically ill individuals.
Take breaks and cool down in air-conditioned rooms, or take an occasional cool bath or shower. Fans are great for keeping cool, but they won't lower your body temperature during times of ex­treme heat. If you need to be outdoors and in the sun, it's important to take breaks in a cool, indoor or shaded area.

Pay attention to the heat index! Your risk of a heat-related illness spikes when the heat index rises to 90°F/32°C or above.

Watch for signs of dehydration: fatigue, headache, nausea and/or insomnia; constipation and/or dark yellow urine; excess thirst and dryness.

Address symptoms early, before they become a dangerous problem. Untreated heat exhaustion can lead to heat stroke over time.

Drink lots and lots (and lots and lots) of water. Aim for 64 ounces a day.
by Ree | The Pioneer Woman
Meat Salads, Salads
Webpage
http://thepioneerwoman.com
Buffalo Chicken Salad
| | |
| --- | --- |
| Prep: 10 Minutes | Level: Easy |
| Cook: 10 Minutes | Serves: 2 |
Ingredients
1 whole Boneless Skinless Chicken Breast
Salt And Pepper, to taste
2 Tablespoons Olive Oil
2 Tablespoons Butter
1/2 cup Louisiana Hot Sauce (Frank's, Etc.)
Salad Greens: Iceberg, Romaine, Mixed Greens
1/2 cup Blue Cheese Dressing
Extra Blue Cheese Crumbles
Celery Hearts, Leaves Intact
Preparation
With a sharp knife, carefully slice the chicken breast in half from top to bottom—meaning you'll have two similarly-sized chicken breasts that are much thinner. Heat olive oil and butter in a small skillet over medium-high heat. Salt and pepper both sides of the chicken breast pieces and pan fry them on both sides until they're done. Get as much golden brown color on the chicken as you can. When it's done, remove the chicken from the skillet and pour off any excess fat/oil (but don't clean the pan.)
Return the chicken to the skillet and pour over the hot sauce. Turn the chicken to coat it on both sides and let it sit in the sauce while you prepare the other ingredients. (Heat should not be on under the skillet.)
Toss the lettuce in a large bowl with just enough salad dressing to lightly coat it (thin the dressing with a little milk if it's too gloopy.) Heap tossed salad into two individual bowls. Sprinkle blue cheese crumbles over the top. Slice the chicken into thin slices (on the bias) and arrange them over the top of each salad. (Dip the slices back into the sauce if necessary to really coat them.)
Top the whole thing with more blue cheese crumbles and serve with celery hearts.
Please feel free to visit the websites associated with these topics for more great information.